Staying somewhere overnight or going to a sleepover are common events that young people look forward to. Reduced self-confidence and embarrassment can severely restrict social life.
Staying at a friend's house, however, should not be ruined or avoided due to urinary or faecal incontinence. There are things you can do to make a sleepover with friends worry-free and fun. Jason M.Wilson, professor of pediatric urology at the University of New Mexico School states, "helping kids stay dry when away from home is definitely a team effort". Talk to your parents and people you trust for support and advice. For extra guidance, you can also read our tips on surviving a sleeping with incontinence.
Our Expert Tips
Think about Product Disposal
Flushing products down the toilet can be harmful, as they are not flushable. You don't want to run the risk of blocking the toilet, as the super absorbent gel in pads can swell up. You can purchase bags to dispose your used products so you don't have to put them in the bin. We recommend buying special disposal bags rather than supermarket bags, as plastic supermarket bags can be easily ripped. Pop Ins Disposal bags are a good option, as they have a delicate floral fragrance that masks any unpleasant odours. The bags also feature easy-tie handles to retain contents securely. Disposal bags are even made of 100 percent recyclable material, making for an environmentally friendly option.
Pop Ins Disposal Bags
Prices Online:
Pop-ins on Allanda: £1.20
Pop-ins on Incontinence Supermarket: £1.19
Pack Wipes and Hygiene Products
Bringing along cleansing wipes and fragranced products can put your mind at ease. If you do a product change, odour neutralisers and wipes can help you feel fresh and clean. Consider taking sanitising foam and hand sanitisers. You can pack these in a wash bag so you don't have to carry them individually. Alternatively, you can pack wet wipes, which do not require the additional use of cleansing foams or lotions.
Our recommended Wet Wipes:
Conti Patient Cleansing Wet Wipes
Conti Continence Care Wipes on Allanda: £2.99
Conti Continence Care Wipes on Incontinence Supermarket: £2.87
Bring Extra Clothing
If you are very worried about an accident, bringing extra clothing can be a good idea. You don't need to go overboard with this; simply bring some extra pyjamas, underwear or trousers you can change into. Packing identical pyjamas can be useful if you worried of people questioning your change of clothes. Clinical psychologist Chris Hardwick, who has worked at Sydney's Westmead Children's Hospital, states "problem-solve possible scenarios beforehand". Go through problems that could occur with your parents, and ensure you pack the right amount of emergency items. This means you will be less anxious about any problems that might occur.
Avoid Drinking Liquid Right Before Bed
Try and avoid drinking any liquid right before bed, as this can heighten the risk of accidents. If you are offered a hot chocolate or milkshake before bed for example, decline this offer. However, ensure you do not avoid drinking liquid altogether. Drink liquids throughout the day to avoid dehydration, which can worsen incontinence. Specialist Jennifer Huizen states, "dehydration allows bladder irritants closer contact with the bladder linings, making their effects more intense." This is due to concentrated urine when you don't have enough fluid in your body, which can irritate the bladder.
Ask about Medication
If you are too worried to go to the sleepover in fear of having an accident, ask your Doctor about medication. Take this a couple of days before the sleepover to ensure you have no serious side effects to ensure it works. Feel free to read our living with incontinence section for tips in the meantime.
Use a Reliable Product
Discreet Incontinence Products for Young People:
TENA Slip Junior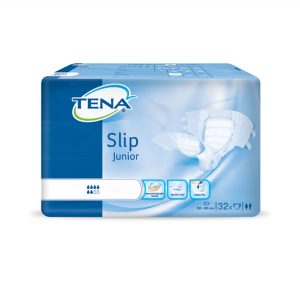 50-60cm
Small size for discretion
Wide fixation hooks
Prices Online:
TENA Slip Junior on Allanda: £16.19
TENA Slip Junior on Incontinence Supermarket: £11:34
iD Comfy Junior Pants 8-15 years
For 8-15 year olds
Thin and quiet material
Soft side waistband
Prices Online:
iD Pants Junior on Allanda: £10.54
iD Pants Junior on Incontinence Supermarket: £10.54
Boys Padded Pants Navy 11-12
For age 11-12
Built in pad
100% cotton
Prices Online:
Boys Padded Pants Navy on Allanda: £7.50
Boys Padded Pants Navy on Incontinence Supermarket: £6.88
Originally posted 2018-10-26 14:05:07.