Although pull up pants are often the recommended running option, you can also choose a pad if you prefer this option. Many people feel more comfortable in an all in one pad due to the security of a pad with a pant design. On the other hand, some people with very light incontinence only require a small, light pad.
What to Look for in a Running Pad
A close-fit design. For running, you need a pad that will not move around or cause discomfort. You find a close fit pad that is ideally anatomically shaped to fit securely and provide maximum security.
A smaller size. If possible, try and find a pad of a smaller size. This will guarantee more discretion and will allow you to relax more when running in view of others.
Breathable material. The last thing you want during running is skin discomfort. Try and choose a pad with breathable, soft material that will not irritate the skin during use.
Freedom of movement. Pads that are uncomfortable to move in or feel tight and restrictive are not ideal. If you choose an all in one pad, ensure it is a pad that provides maximum freedom of movement. This will often be included in the description of the product.
Our Tip: Wear Shaped Pads with Fixation Pants!
Read about the Benefits of Wearing Fixation Pants
Our Pant Recommendation
Depend Active-Fit Underwear
Just like the name suggests, Depend Active Fit are designed specially for those with an active lifestyle. The pants have elasticated legs for freedom of movement and are designed to provide maximum comfort.
Depend Active Fit Underwear for Men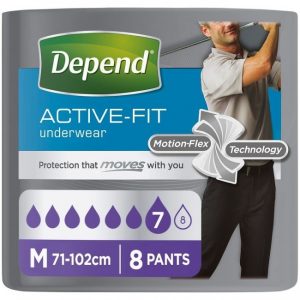 Grey colour
Flex fabric
Elasticated waist
Comfortable during exercise
Feel like regular underwear
Depend Active Fit for Men on Allanda: £6.65
Depend Active Fit for Men on Incontinence Supermarket : £5.60 to £5.89
Depend Active-Fit Underwear for Women
Peach colour
Flex fabric
Elasticated waist
Comfortable during exercise
Feel like regular underwear
Depend Active Fit for Women on Allanda: £6.65
Depend Active Fit for Women on Incontinence Supermarket : £5.60 to £5.89
The Best Incontinence Pads for Runners
TENA Lady
Designed specially for women
Body shaped for discretion and comfort
Small and reliable
Silky soft for comfort
Prices Online:
TENA Lady on Allanda: £2 to £6.25
TENA Lady on Incontinence Supermarket: £2 to £6.25
Attends Contours
Body shaped for both men and women
Suitable for all levels of incontinence
Leakage barriers
Recommended for use alongside Attends Stretch Pants
Prices Online:
Attends Contours on Allanda: £6.05 to £10.99
Attends Contours on Incontinence Supermarket: £6.23 to £10.99
TENA Slip Active Fit
Designed specially for active individuals
Curved leg elastics
Bottom and top tapes
Plastic backed
Prices Online:
TENA Slip Active Fit on Allanda: £11.75 to £17.99
TENA Slip Active Fit on Incontinence Supermarket: £11.45 to £17.59
iD for Men
Anatomically shaped for men
Discreet and close fit
Elastic fit
Prices Online:
iD for Men on Allanda: £2.42 to £4.21
iD for Men on Incontinence Supermarket: £2.19 to £4.84
Lille SupremForm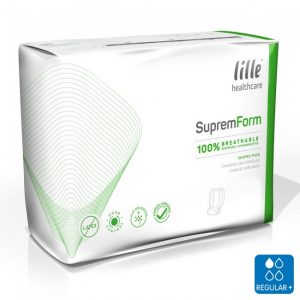 Shaped pads for heavier incontinence
Close fit
Breathable for skin health
Prices Online:
Lille SupremForm on Allanda: 6.50 to £7.90
Lille SupremForm on Incontinence Supermarket: £6 to £7.15
Cotton Comforts
Discreet shaped pads
Unique 100% natural cotton top sheet
Hypoallergenic
Maximum comfort
Prices Online:
Cotton Comforts on Allanda: £1.35 to £1.50
Cotton Comforts on Incontinence Supermarket: £1.15