It is estimated that around 4 million men living in the UK with incontinence, and the fear of a bulky product means many men shy away from looking for protection.
Men often restrain from shopping for incontinence pads due to embarrassment or uncertainty of the correct incontinence product for them. However, pads can be the best option for many as they are bulk-free and can be easily and discreetly purchased from online stores. This is our guide to the benefits of using a pad and our verdict on the top 10 male incontinence pads.
Why Choose a Pad?
The removal process is easier than an incontinence pant
Instead of completely replacing your underwear with a pull-up product, you can enjoy the simplicity of a pad. You simply lift them our of your underwear or stretch pants with no extra hassle.
You Won't Feel Hot and Bothered
No need to worry about the dreaded "diaper bulk". Instead of being uncomfortable in a large product, you will forget you are even wearing protection!
There are a Variety of Styles
Shaped pads are anatomically shaped pads to provide maximum security and comfort. You can purchase shaped pads that are designed for men or women. Large shaped pads are typically used for moderate to heavy incontinence whereas small pads are generally used for light incontinence. You can also purchase winged pads which makes fixation easier.
Who are Incontinence Pads Suitable for?
Incontinence Pads are easier to take off and put on than all in ones or pull up pants so are recommended for those with lack of mobility. These are suitable for light to heavy incontinence, however for severe incontinence we'd recommend an all in one or pull up.
What Makes a Reliable Male Incontinence Pad?
It's likely you'll be wearing a pad for a long period of time, so looking for the ideal design for you is import
Secure Fit with no Movement
You should ensure your pad fits securely and does not move around during the day. It's essential to look for pads that are close-fit, so choosing an anatomically shaped pad can solve this. If you have problems with your pad moving around, you can also choose fixation pants?
A Suitable Absorption Capacity
If you have heavy incontinence, choosing a light small pad would be very ineffective. You must think more than just discretion when choosing a pad, if you need a pad for heavy incontinence, it's better to not waste money buying small pads.
Top 10 Incontinence Pads for Men
Tena Men Absorbent Protectors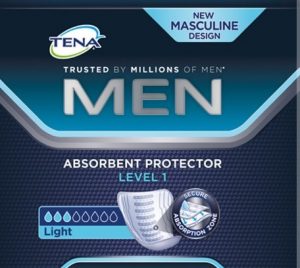 You can't go wrong with this product with the most absorbent level only being 11mm thick. Although these may be pricier than some other products, you really do get what you pay for. You can choose between level 1, 2 and 3 and unlike many shaped pads, Tena Level 3 is suitable for overnight use. The secure absorption zone in the pads locks in leaks effectively. These pads allow the skin the breathe fully whilst still being protected. The popularity of this option is evident of this!
Ideal For:
Light to moderate incontinence.
Available at:
Allanda & Incontinence Supermarket
2. Tena Men Protective Shield Extra Light
The reviews on this product prove their ability to work without making the user feel trapped or uncomfortable like some bulkier pads. These pads are super thin insert pads for light bladder weakness and are not suitable for heavy incontinence. These pads are indistinguishable from other light pads with a unique black design. However these pads don't feature wings, which would make them that bit more secure.
Ideal for:
Dribbles and light incontinence
Available at:
Allanda & Incontinence Supermarket
3. Attends for Men
Attends for Men pads are designed with fully breathable material and cover needs from micturition dribbles to moderate leaks. Level 1 and 2 feature an airlaid core which enables the pads to be super thin whilst providing improved protection from leakage. Attends are a great and reliable brand that many of us miss out on exploring. This range really does what it says on the label, providing pads that feel good on your skin.
Ideal for:
Light to Moderate Incontinence
Available at:
Allanda & Incontinence Supermarket
4. iD For Men
These pads are shaped with elastic gathers to ensure a secure fit. A special adhesive strip secures the pad inside your underwear so you don't have to worry about it moving around throughout the day. With a soft textile back sheet, these pads provide optimum comfort. ID for Men pads are designed with an elastic and adhesive strip that secures the guard and the elastic gathers ensure a secure fit.
Ideal for:
The range offers pads for those with light to moderate incontinence. You can choose between 3 levels.
Available at:
Allanda & Incontinence Supermarket
5. Abena Abri-Man
Abena Abri-Man have a micro punctured top sheet and channel systems and a frontal double Top Dry layer that provides fast dispersion of the liquid. These pads are 100% breathable and are designed specifically for a male's anatomy.
Ideal for:
Light to heavy incontinence
Available at:
Allanda & Incontinence Supermarket
6. Attends F6 Faecal Pad
These pads are specifically designed for faecal incontinence and are a reliable, comfortable option. Small and discreet, these pads are not bulky and can be carried round easily in a small pocket. They feature a full barrier leg cuff and a waterproof back sheet to keep your mind at ease. These are perfect for men who want to manage faecal leaks without the extra bulk of an all in one. However, for very severe faecal incontinence, we recommend using an all in one design.
Ideal for:
Moderate Faecal Incontinence
Available at:
Allanda & Incontinence Supermarket
7. Lille for Men
Lille for Men are fairly small pads and are designed for light to moderate leaks and feature a unique Lille Air system that makes them 100% breathable. They are a good choice for users with sensitive or delicate skin. Whilst providing comfort, these pads do not provide as much absorbency or close fit in comparison to some other products.
Ideal For:
Light to Moderate Incontinence
Available at:

Allanda & Incontinence Supermarket
8. Attends Contours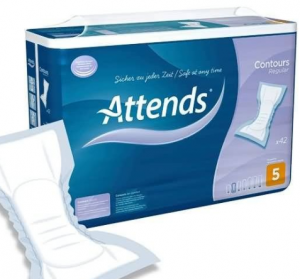 Body shaped and thick, the pads are highly reliable for moderate to heavy leaks. These will make your skin feel healthy and can breathe fully during use. The level 10 pads feature a dual core providing best security. The pads are body shaped however there are different pad ranges that provide greater discretion. Although these pads are committed to skin health, the pads are not as close fit or convenient as Attends for Men.
Ideal For:
Moderate to Heavy Incontinence
Available at:
Allanda & Incontinence Supermarket
9. Abena Abri-San
This range is popular due to its large option of absorbencies and sizes with larger pads catering for bariatric individuals. The Abena Abri-San are unisex shaped pads available in 4 levels. These are body shaped for all degrees of incontinence. Levels 1 to 4 feature adhesive strips whereas wetness indicators are featured on level Premium 5 and up. This product is great for its selection of options, however for maximum discretion you may want to try thinner pads. For the best performance, these pads need to be worn with close fitting underwear only.
Ideal For:
Although the lower levels can be used for light, we recommend using these for moderate to heavy due to the product size.
Available at:
Allanda & Incontinence Supermarket
10. Tena Comfort
Tena Comfort are highly absorbent and reliable for men with heavier leaks. However, you need to consider your comfort needs before investing in these pads as they are very thick and heavy despite their popularity. You will be able to feel these pads between your legs during use. These pads are often bought by people who need extra thickness to feel secure, so these pads can be a life saver for heavy incontinence. Although if discretion is your priority, these are not your best option.
Ideal For:
Moderate to severe incontinence.
Available at:

Allanda & Incontinence Supermarket
Do you have Incontinence after Prostate Surgery? Find out How Long People Experience Incontinence