Incontinence pads are the most popular option for leakage protection. With more advanced discreet designs in the market, the number of options available is increasing.
How Do Incontinence Pads Work?
Let's start by seeing what is inside an incontinence pad.
Each incontinence pad features an acquisition layer which promotes the first passage of urine through the inner core of the pad. The core usually also contains a super absorbent powder.
Incontinence pads also feature odour technology that helps prevent the formation of odours and maintains a healthy skin PH.
The basic requirements of pads are the following:
Ability to contain leakage
Provides a discreet design
Ability to contain smell
Keeps the skin dry and reduces irritation
Is soft and provides comfort to the skin
| | | |
| --- | --- | --- |
| Pad Part | What is it Designed from? | Its Function |
| Surface material | Fiber material made of polypropene/polyethylene polyester/viscose. | Absorbs the liquid and keeps you dry and comfortable |
| Acqusition layer | Porous material featuring wood fiber or polyester fiber | Moves liquid from the surface of the pad to the centre |
| Absorbent core | Paper pulp and superabsorbents for pads and panty liners. In some products, porous paper-based material is used. | Absorbs and stores the liquids. |
| Adhesive Strip | The adhesive strip consists of various polymers and synthetic resins. | The adhesive strip is essential for binding together the product layers and attaches the product to your underwear |
| Backsheet material | This is designed from polyethylene film | Extra protection to prevent leakage |
| Fastening material | Polymere materials | Keeps the product in place |
| Elastic material | Polymere materials | Provides comfort and ensures a good fit |
| Fragrance (only certain products) | Light Perfume | Gives the product a fresh smell. |
| Release Paper | Silicone coated paper. | A paper that protects the adhesive on the back of the product. |
Our video below demonstrates the speed of absorption in incontinence pads:

This video demonstrates further demonstrates how an incontinence pad works:


Types of Incontinence Pads
Incontinence pads are available in different designs, depending on the severity of incontinence. They can also differ depending on whether they are designed for faecal or urinary incontinence. When choosing a pad, you should base your decision on how much absorbency you need and how comfortable the product is.
Small Shaped Pads
Small shaped pads are designed for light to moderate incontinence. They can be worn inside your normal underwear and are discreet and small. You can also small shaped pads that are designed just for faecal incontinence.
Large Shaped Pads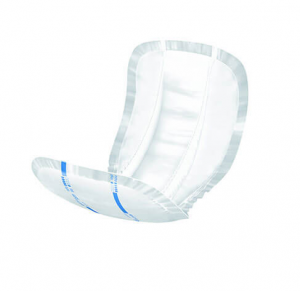 Large shaped pads are suitable for moderate to heavy incontinence. Like small shaped pads, they can be worn with your normal underwear. Some large shaped pads for heavy incontinence are also suitable for faecal smearing.
Insert Pads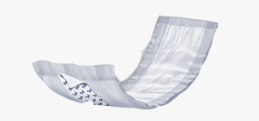 Insert pads can be used inside protective products to increase their absorbency. They can also be used as inserts within washable pants or on their own as light incontinence products.
Incontinence Slips
Incontinence slips are all in ones that feature fixation tabs for security. They are designed for heavy to severe incontinence and can be worn on their own. Incontinence slips can be used for both faecal and urinary incontinence.
Belted Incontinence Slips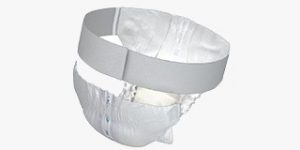 Belted incontinence pads are another design of all in one that feature belts rather than fixation tabs. Like incontinence slips, they can be worn on their own and are suitable for faecal and urinary incontinence.
Shaped like feminine towels
For light incontinence
Small and thin
Maximum discretion
From £1.64
Popular option for light incontinence
Small, slim pad
Ultra white dry system
Dry fast core
From £2.85
Use with your own underwear or elasticated net pants
Rectangular shaped pads
Small and discreet
From £3.14
Nonwoven Topsheet
Fluff Absorption Core Material
Nonwoven Polyethylene Back Sheet
£5.14
Recommended Incontinence Slips
Discreet and reliable
Gentle on the skin
For heavier incontinence
Easy to take on and off
For moderate to heavy incontinence
Anti leak cuffs
Cotton feel material
Ideal for sensitive skin
From £8.18
Originally posted 2019-03-28 14:40:36.