Since 1980, the average BMI in individuals has more than doubled, with the number of obese people in the world rapidly increasing.
In 2014, nearly 13% of the world's population were considered to be overweight. According to NHS Choices, obesity in the UK affects 1 in 4 adults. Experts even estimate that in 2030, 26 million adults within the UK will be considered overweight. Having a high body mass index is one of the most common causes of incontinence. It is estimated that each 5 unit increase in body mass index is associated with an incontinence prevalence risk of up to 50%. This rapid growth in obesity has highlighted the requirement for suitable healthcare products for individuals of larger sizes.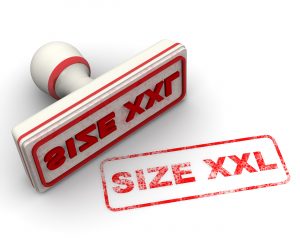 What is the correlation between a high BMI and Incontinence?
There are varying explanations as to why incontinence is more prevalent in individuals with a higher BMI. One scientific explanation for the relationship is that increased weight causes additional stress to be placed on a person's pelvic floor muscles. It is useful to compare obesity to the later stages of pregnancy in that it may lead to chronic strain, stretching and weakening of the nerves and muscles of the pelvic area. This causes them to become weakened more quickly than in a person with a lower BMI. Deposition of fat around the abdomen is another large factor associating obesity and urinary incontinence. Many recent studies suggest that excess body weight increases abdominal pressure. This, in turn, increases bladder pressure and mobility of the urethra. Noblett et al has found strong correlations between BMI and intra-abdominal pressure and intravesical pressure that suggested obesity may cause a chronic state of increased pressure. Interestingly, the association or connection between obesity and incontinence is strongest for stress and mixed incontinence, and weaker for urge incontinence. Across adult life, having a high BMI may also cause mechanical stress on the urogenital tissues. There is evidence to suggest that individuals who have been overweight or obese since early in adult life more than double their risk of severe incontinence.
The correlation between BMI and incontinence has been further proven in studies examining the impact of weight loss on incontinence. One particular study in 2010 discovered that weight loss intervention reduced the frequency of stress incontinence episodes through 12 months. The group of participants who took part in a weight loss challenge reported greater satisfaction with changes in incontinence than the control group at 6, 12 and 18 months. This strongly suggests that weight loss maintenance may provide longer term benefits for urinary incontinence. Reductions in incontinence have also been observed in morbidly obese women who have had dramatic weight loss after bariatric surgery. In a study of overweight incontinent women, those who had a weight loss of more than 5% had a reduction of at least 50% in the frequency of incontinence. A 3 month study reported that overweight women randomly assigned to a low calorie diet had a greater decrease in the weekly number of incontinence episodes at 6 months compared with a control group. The behavioural weight loss program resulted in a great reduction in the frequency of self-reported urinary incontinence episodes at 6 months.
Bariatric incontinence products have been designed to provide a comfortable and secure fit to prevent leakage on large waist sizes. Manufacturers have created these products with an aim to help larger patients by improving their everyday comfort and independence. Products for bariatric care include shaped incontinence pads, all-in-ones, pull-ups and bed and mattress protection.
Here are some popular products that are designed for bariatric care: 
Abri Form XXL
Abri Form is an all-in-one product which features fully breathable side panels and adhesive tabs which help to secure the product in place.
This product is an all-in-one style absorbent continence care product, featuring fully breathable side panels.
All-in-one style product
Suitable for moderate to heavy urinary incontinence
Fully breathable side panels
Useful wetness indicator
Prevail All In One Pads
Prevail All In One Incontinence Pads, also known as Slips, are specially designed for maximum comfort and fit to prevent leakage on larger waist sizes. The XXL Prevail All In One Pads are ideal for bariatric and larger patients. The product is designed to fit completely around the body before fastening securely with bottom tapes then top tapes. This pad features additional security barriers for increased comfort and leakage protection.
Cloth feel breathable backing                                                        
Dual easy lock resealable fixation tapes for excellent closure
Effective odour control system
Ideal for sensitive skin
Advanced Zoning System for fast absorption
Wide and soft elastic sides
Abena Abri-Flex XXL Incontinence Pants
Abena Abri-Flex XXL bariatric sized pull up incontinence pants feature a built in pad and can be worn like normal underwear. These pants can be pulled up and down easily when required but have the additional protection of a built in incontinence pad, maximising dignity and minimising hassle. These pants are unique in that their waist band is wider than normal pants.
Advanced Zoning System
Wide, soft, elasticated side panels
Maximum skin comfort
Odour control system to prevent odours forming
Tena Slip Stretch XXL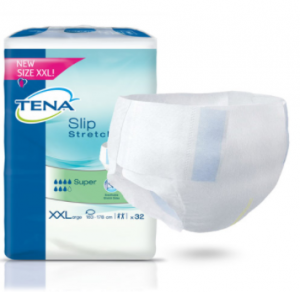 The Tena Slip Stretch XXL is the Tena's largest all in one body incontinence pad. This pad is particularly ideal for users who are less mobile or bed based. Tena Slip Stretch features a soft textile back sheet and easy to use re-fastenable fixation hooks.
Stretch sides to follow the body's movements
Soft textile backing ensures enhanced comfort and dryness for improved skincare
Easy to apply re-closable fixation hook and eye fastenings
Odour Neutralizer
Curved leg elastics for enhanced comfort and close body fit
Wetness Indicator
When choosing incontinence products, it is important to measure your waist and hips before purchasing. You should also consider whether you will feel more comfortable in an incontinence pad, all-in-ones or incontinence pants. If you only lose a small amount of urine, you should will need minimum protective products such as an incontinence pad. However, if you lose a large volume of urine, you will need highly absorbent all-in-ones or briefs. It is important to see a Doctor or professional if you have a high BMI and are suffering from incontinence to outline possible solutions.
Originally posted 2018-01-04 11:53:15.