In the UK, more than 10 million people have Arthritis. Rheumatoid Arthritis is a long term condition that affects every day life.
What is Rheumatoid Arthritis and What Causes It?
In people with Rheumatoid Arthritis, the body's immune system targets affected joints. This can lead to frequent pain and swelling. Annoyingly, these symptoms can also worsen following rest. The wrists and hands are typically affected. This problem can result in low red blood cell count and inflammation around parts of the body, on serious occasions the lungs and heart. It is common for those with Rheumatoid Arthritis to develop issues with other body organs and tissues.
Unfortunately, the cause of rheumatoid arthritis is not known. Experts believe the condition is likely caused by both genetic and environmental reasons.
Symptoms of Rheumatoid Arthritis:
Fatigue
Joint stiffness
Joint tenderness
Limping
Joint warmth
Loss of motion
Anemia
Joint deformity
Frequent Fever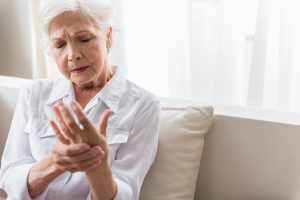 Rheumatoid Arthritis can cause an increased risk of many other health conditions. These include heart attacks, strokes and inflammation of other areas of the body. One complication of Rheumatoid Arthritis we might not expect is urinary incontinence.
Do you have Rheumatoid Arthritis and Incontinence?
Rheumatoid Arthritis and Urinary Incontinence: What is the Link?
It can seem strange for there to be a link between Arthritis and incontinence. However, one study found that 38% of patients with Rheumatoid Arthritis reported difficulty controlling their urine. Arthritis does not directly affect the bladder for most people. It is the complications that Rheumatoid Arthritis causes that is the blame.
In many people, incontinence is caused by restriction of movement. Functional incontinence is therefore the most commonly associated with Rheumatoid Arthritis, as it can cause mobility problems. This can result in people getting to the toilet too late. Stiffness in the hands can also make removing underwear and clothing difficult.
Constipation often occurs due to people with Rheumatoid Arthritis not being active, or the fact that they are limiting their fluid intake. Insufficient exercise is actually a common cause of constipation. Having a history of straining while having bowel movements can weaken the pelvic floor muscles, which are vital for bladder control. This condition is called stress incontinence.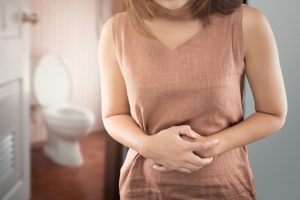 Infections and bladder pain are increasingly well-recognised complications of Rheumatoid Arthritis. It is associated with a high incidence of UTIs, particular in seniors. In general, people with autoimmune diseases such as Rheumatoid Arthritis have a higher risk of lower urinary tract symptoms. Studies have also shown that there is a link between Rheumatoid Arthritis and bladder pain syndrome/interstitial cystitis. Interstitial cystitis causes urinary urgency and frequency. It can also cause pelvic pain and Nocturnal Enuresis.
Recommended Urinary Incontinence Products
TENA Comfort Mini
Dry Fast Core
Odour Control Technology
Discreet and Small
Starting from £3.10
Lille Suprem Fit Maxi
Designed for women with lighter urinary incontinence
Discreet and Small
Very close fit
Starting from £8.02
iD Expert Light
Designed for women with lighter urinary incontinence
Discreet and Small
Very close fit
Starting from £1.57
TENA Pants Maxi
Unique Dual Absorption Zone
For heavy to severe incontinence
Body-close fit
Provide no restriction of movement
Starting from £10.75
iD Pants Normal
Designed for women with lighter urinary incontinence
Discreet and Small
Very close fit
Starting from £7.38
TENA Men Active Fit
Pull up pants for moderate to heavy incontinence
Ideal for men with an active lifestyle
Wide distinctive waistband
Navy blue masculine colour
Starting from £7.80
Tips Treating Urinary Incontinence
Do Pelvic Floor Exercises
There is a reason you may hear about pelvic floor exercises endless times. They really do work for strengthening the pelvic floor muscles and are particularly ideal for stress incontinence.
Watch your Diet
It is vital to watch your diet when managing incontinence. Some irritants such as spicy food and caffeinated beverages should be avoided.
Talk to a Doctor
On some occasions, medication and surgery is necessary. If natural remedies do not work, you should talk to a Doctor about other options. You can read about bladder surgery for stress incontinence here.
For more tips on managing urinary incontinence, you can visit our living with incontinence section.
Originally posted 2019-03-19 14:15:14.