Nighttime incontinence, also known as Nocturnal Enuresis, can be a stressful and difficult condition. However, it can be managed with the right products and lifestyle.
When the body unexpectedly receives a signal to release urine while they are sleeping, this can cause nighttime leakage. Often, this is due to weakening of the bladder walls or a disease affecting the nerves. This is why Nocturnal Enuresis is common in people with neurological conditions or people who have had an operation affecting the nerves. However, there are a large range of other reasons why people are affected by Nocturnal Enuresis.
Common Causes of Nocturnal Enuresis
Genetic factors. A recent study showed that a person with bedwetting parents actually has a 77% chance of being a bedwetting
A lack of the antidiuretic hormone. This hormone is a brain chemical which signals for the kidneys to release less water. In some individuals, inadequate levels of this hormone are produced
Conditions such as Dementia, Stroke or Multiple Sclerosis
A kidney or bladder infection
Consuming bladder irritants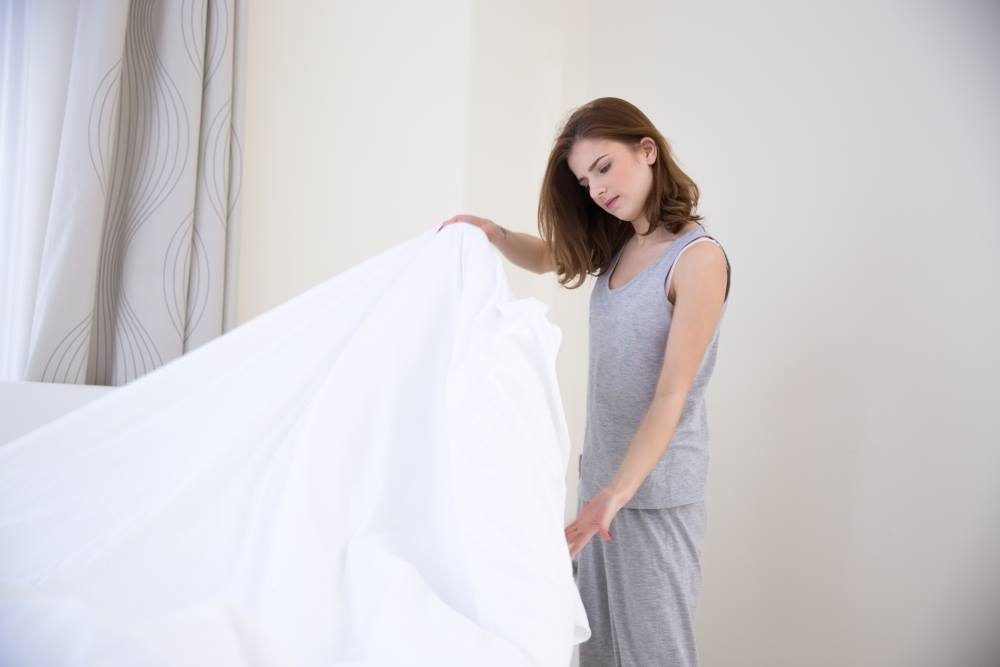 Disposable vs Washable Incontinence Bed Pads
Pros
High absorbency. Most disposable products offer higher absorption levels than washable options.
Easy, hygienic disposal. Throwing away an incontinence pad can be time saving and a much easier option for many as opposed to washing the product after use.
Cons
Less cost effective. Buying bed pads to throw them away frequently can be much less cost effective than a washable product which lasts a long time.
Disposal away from home can be tricky. You need to consider what you would do with the pad on holiday or away from home, as this can sometimes be a worry.
Recommended Disposable Bed Pads for Nocturnal Enuresis
Waterproof PE Backsheet
Easy to Dispose
Comfortable
Ideal when changing incontinence pants or pads
6 layers of tissue
Soft nonwoven surface layer
Available in 40x60cm, 60x60cm, 60x90cm
Buy Abena Abri Cell on Allanda from £2.75
Non-woven top sheet
Ideal for managing moderate incontinence
Polyethylene film back sheet
Leakage barrier
Superabsorbent core
Odour Protection
Available in 60x90cm and 60x60cm
Buy Attends Cover Dri Super on Allanda from £8.45
Pros
Economically friendly. Washable products last a long time, meaning you don't need to shop for products frequently. Buying washable products can therefore save you a significant amount of cash.
Environmentally Friendly. Washable products are better for the environment, reducing the number of products ending up in landfill.
Cons
Constant washing can be tiring. With washable products, you need to keep on top of the washing and get into a routine.
Privacy can be compromised. Privacy can be affected if you are hanging up your bed pad to dry
Secure zone
100% Virgin Fluff Pulp
Extra Security
Each underpad is individually C' folded
Gentle on the skin
Super absorbent micro beads lock away liquids
Colour coded and printed back-sheet
Available in 60x60cm and 60x90cm
Can be washed and re-used
Non slip waterproof backing
Stay dry layer keeps user feeling comfortable
Machine washable at up to 95 Degrees C.
Suitable for tumble drying (follow instructions)
Lasts up to 300 washes
Choice of Salmon Pink or Blue Colours
Available in Double and Single
Buy Kylie Bed Pad on Allanda from £20.95
If you find yourself using a lot of disposable bed pads, it may be worth considering upgrading to a washable version. These are cheaper on a long-term basis, saving frequent trips to the shop. However, if you travel a lot and a washing machine is not always available, a disposable option would be more ideal. Some people also consider disposable bed pads to be an easier, more hygienic method. If you would find it hard to keep on top of washing the pads frequently, disposable pads may also be an easier method for you.
Are you on a Budget?
You can find value incontinence bed pads that are ideal if you are on a budget or are simply looking for a cheaper option. The following bed pads are economical pads:
Pink
Highly Durable
Soft Textile Wings
Stay-Dry Top Surface
Cost-Effective
Exceptional durability
Available in 90x135cm, 70x85cm, 86x114cm, 86x89cm
Shop Primacare Bed Pad on Allanda from £5.68
Easy and convenient
Waterproof backing
Stay dry layer keeps user dry
Latex and Chlorine free
Disposable
Available in 22x22in and 24x36in
Shop Readi Bed Pad on Allanda from £5.95
Turquoise
Fused
Unquilted
Protects skin from moisture
Smooth surface
Suitable for sensitive skin
88x88cm
How is a Bed Pad Supposed to Feel?
A poor bed pad can very uncomfortable to sleep on. You will know whether you have the right bed pad for you determined on how the material feels. In addition to being soft, high-quality pads wick water away from your skin so you remain comfortable and dry even after the pad has been used. When you move around in the night, the pad should also grip the sheet so that the pad stays flat. If your pad moves around a lot during the night, this is a sign you need a new one with a better grip. Soft with a good grip is the ideal combination for a bed pad.
Our Tips for Using Bed Pads
To avoid incontinence associated dermatitis all bed pads should be changed as soon as possible after they have been soiled.
For extra security you can wear absorbent pads or briefs in conjunction with bed pads.
If you find one bed is uncomfortable or does not provide enough grip, try different brands until you find one suitable for you.
Shaped pads can often move around during the night when worn alongside a bed bad. Wearing pants or an all in one can be more effective.
Originally posted 2019-09-10 11:13:38.